Football Cards

Click here to view our footy card sets and price guide list
Recent Ebay sales
1979 Scanlens VFL
Rex Hunt - $7.01

1934 Hoadleys VFL Footballers
C. Niven - $8.00

2001 AFL Select
Draft Pick Autographed
Nick Riewoldt - $100.00

Official Site
AFL Website
All the latest footy news and results
Latest Stuff

AFL Computer games

There have been a number of video games released for the AFL starting way back in 1996 when Electronic Arts released "AFL Finals Fever" on Microsoft Windows. But it was in 1998 when Playstation released "AFL 98" that the gaming world was seriously introduced to footy.




Online price guide for Australian Football League trading cards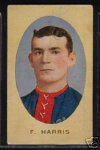 Welcome to AFL Footy Cards, the online address for Australian Rules football cards. Here you can find the latest news on AFL footy cards including new sets, reviews and tips on collecting. We also provide listings for a number of sets of both VFL and AFL footy cards from the early 1900's up to present day with a comprehensive price guide for each set.


The price guides for AFL footy cards are updated on a regular basis as data is compiled from various avenues such as trading card shops, markets, collectibles fairs and ebay auctions. The prices are to be used only as a guide and do not represent fixed prices. We do our best to ensure accuracy of all the cards we list, however in case of error we hold no liability to any transactions.


NOTE: We will be adding several new footy card sets in the coming weeks,
as well as launching a brand new website in 2017. Stay tuned!!


Latest footy cards release - 2006 Select Champions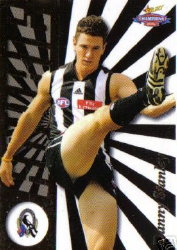 The latest release of Select AFL footy cards have been release and should keep collectors happy! The 2006 Select Champions features a 162 card base set featuring a clean soft design. There are 8 cards per pack, which includes one "Geurnsey" card, similar to the Die Cut releases of last year.

Again there are plenty of inserts to collect, the most common ones being the 'New Generation'. These feature some of the up and coming stars of the game and are found at a rate of 1 in 6 packs. Slightly more scarce are the draft rookie cards, featuring 22 footballers from the 2005 AFL draft. Again the Predictor cards will prove popular, those in possession of the Team card who wins the Grand Final able to redeem it for special bonus sets! 2006 Select Champions price guide






Latest footy cards release - 2005 Select Dynasty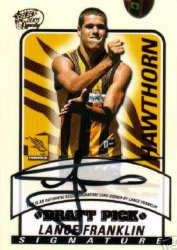 In a surprise to most people associated with the trading card hobby, Select Australia have released a second series of AFL trading cards for 2005. On July 6, 2005 Select Dynasty was released, and with only 6500 boxes made, collectors are scrambling to get their hands on them.

The cards are a premium quality, and sell for $5.99 a pack, with 36 packs in a box. Like Series 1 (Select Tradition), the set includes a parallel die cut set. There are plenty of inserts including All Australian cards, AFL Predictor Cards, Signature Cards and Hall of Fame Legends. As with series 1, there is a Grand Redemption card which can be exchanged for a Select Dynasty Folder, the complete common card set, the complete die cut parallel set, the All Australian inserts, and a Draft Choice Laser Foil Set and Mini Premiership Laser Foil Collection. Both sets are exclusive to the redemption. With only 110 redemption cards produced, these will be very highly sought after! 2005 Select Dynasty price guide




Latest footy cards release - 2005 Select Tradition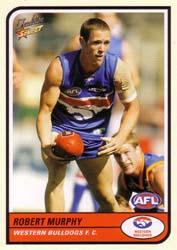 Released in April 2005, Select's latest release of AFL cards has been met with excitment. The cards retail at $3.99 per pack, with 36 packs per box.

The Select 'Tradition' collector cards feature action photos and lots of information and statistics, set on a special high quality stock for lasting condition. Again a major feature of the cards are the insert sets. This year these include Limited Edition Signature cards, Mark of the Week, Footy Face Idols and more.
2005 Select Tradition price guide


Hot Players
Current stars
1. Luke Hodge
2. Lance Franklin
3. Gary Ablett Jr
4. Dane Swan
5. Joel Selwood
6. Scott Pendlebury
7. Trent Cotchin
8. Josh Kennedy
9. Nat Fyfe
10. Jobe Watson

Past players
1. Ted Whitten
2. Gary Ablett Sr
3. Ron Barassi
4. Tony Lockett

5. Alex Jesaulenko
6. Jason Dunstall
7. Wayne Carey
8. James Hird
9. Peter Daicos
10. Sam Newman
* These players cards are sizzling right now

Links
Just like in the olden days when people you to swap cards, Card Trader Web tries to bring this concept back. Some very interesting articles about card collecting.

For regular collectibles auctions including sports memorabilia, check out Abbeys Auctions in Melbourne. Every 6 weeks they hold a special auction and niche sporting collectibles come up regularly.

Health Helper

Funny stuff daily


Sponsors
Contact us to advertise your product or business here